Interviews
Japan, Manager, #30 Tetsuya Ishikawa (Sluggers)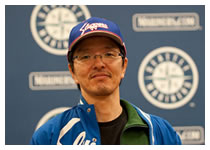 (He is the initial Member of the team since '84.)
The Koshien Stadium in Japan was great but Safeco Field was tremendously great. Just fantastic! "I will be a right fielder like Ichiro," said everyone. That's why I rotated the outfielders. Also it was amazing to hear that my private locker is the one A. Rod had been using till yesterday.
#0, Takamitsu Tokuyama (Sluggers)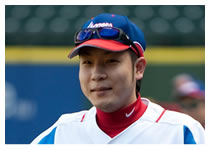 In spite of my recent joining the sluggers, I already could get a big chance like this. I am really happy to be on the same stage as among Major Leaguers like Matsui or Ichiro.
#1, Hiroshi Tamayama (Sluggers)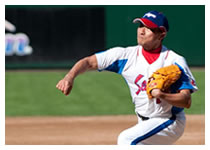 (He represents players in forties.)
Through this chance of playing with American players, I actually could find there are a lot of people who love baseball and make their effort in baseball. I think it becomes a good motivation for my future baseball career.
#2, Masahiro Kubono (Sluggers)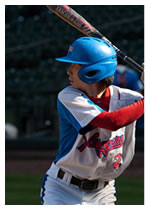 (He is a specialist of stealing bases!!)
Befor coming to US, I have got a passport and a new suitcase. Also I bought a digital camera and it was the most useful thing I brought.
#5, Taiji Kitayama (Sluggers)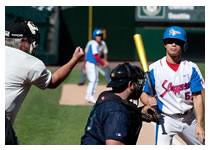 It was the best thing for me to share how much we love baseball with my team mates and local players. We could be one through baseball. The memory of being a catcher when Moose, the Mariners' mascot did a ceremonial first pitch is unforgettable.
#15, Wataru Iijima (Sluggers)島亘 選手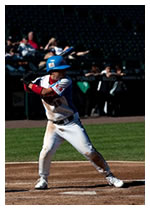 It was a miracle having moved from Kanto to Osaka, then it was the other miracle having joined the Sluggers. Having played in the Safeco Field is also another miracle. Thanks to all these miracles.
#16, Yutaka Imai (Sluggers)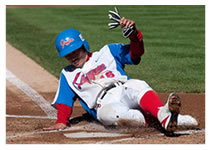 (He was chosen as an excellent player. He is Ichiro of the Sluggers. Area 51 is his.)
I have been under a big pressure for days for taking a player's oath. Actually I was the sole Japanese person who took an oath in that place. It was a true "Field of Dreams".
18, Yutaka Mori (Sluggers)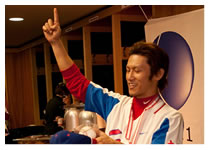 (He was chosen as the MVP of the event. He showed us fantastic performances of making four hits a day. He is called Mr. Full-swing and his batted ball is the fastest in Japan.)
I really would like to thank encounter with the manager Ishikawa and Sluggers.
#19, Yuuhei Nikubo (Sluggers)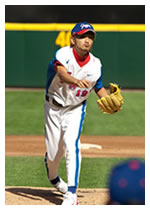 (He is the most handsome guy in the team.)
The pitching mound in a Major League ball park really fits me. But, I was really upset when I gave a dead ball to the first American player in the Major League ball park.
#27, Tomohito Tanimoto (Sluggers)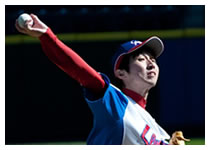 (He was chosen as an excellent player.)
I became the ace pitcher of the team by earning the win at Safeco Field. I'm glad to record my name on the history of Japanese sandlot baseball.
Assistant, Manami Kitayama (Sluggers)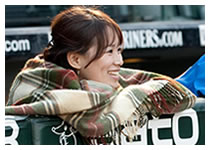 (As an assistant, she supports the team behind the scenes.)
Good job to everyone! You guys were so cool. I really want to come back to this place with all of you.
Cheerleader, Tomoyo Nomura (Sluggers)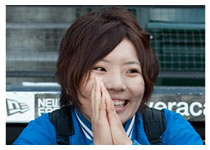 (Actually she is a private cheerleader of Iijima!)
At first, I didn't believe that a sandlot baseball team plays in a Major League Baseball stadium. I couldn't quite get the meaning of it. But now I can tell you I did the greatest experience.
Cheerleader, Izumi Maeda (Sluggers)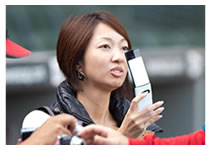 It was really a good experience for me to see everyone's cool performances in the Safeco Field.
Team crew, Hiroo Dewa (Sluggers)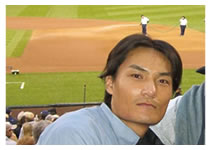 All players were really shining and dazzling in the field. I am so much grateful for my experience of standing on the field with everyone.
#5, Kouichi Morishita (Speed Dangerous)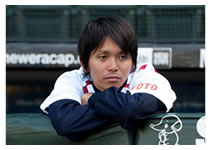 (He improved his skill as a third baseman in Kyoto, then tried his skill in Seattle.)
I have traveled abroad for the first time this time, I had just great memories having played in the Safeco Field.
#10, Masayuki Kamada (Speed Dangerous)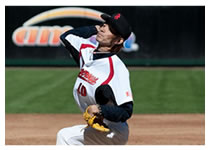 (He has been devoted to pitcher for sixteen years. He thanks everyone for his experience of pitching in a dream stage! )
I could watch a game of Mariners vs Yankees, and also I could watch Ichiro's performance. Then I can not believe that I was able to play in the same field.
#25, Tatsuya Kamada (Black Winds)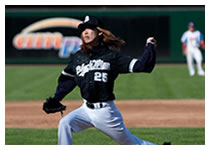 (He is a southpaw earnestly having pitched at Kyocera Dome Osaka stadium.)
I joined the team representing my team solely and I cannot thank more for my experience of playing baseball with all players. Seattle, I like you very much.
#32, Yoshitaka Inoue (Seattle NCJLT)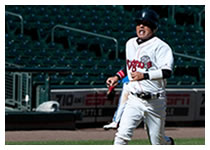 (He was chosen as an excellent player.)
I used to play outfield in high school. Now I play mainly infield in the Puget Sound Senior Baseball League.
#2, Kizo Kato (Seattle)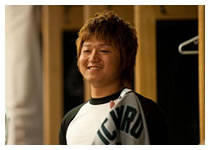 I am really excited to play baseball in Safeco Field.
#51, Hiro (Seattle)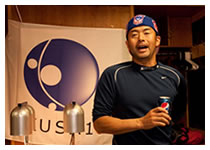 Meeting new people, friendship, an expanding circle of people, I see a great potential in KUSA1. I did not share the feeling like this even with friends in Seattle. Baseball is fantastic! Safeco Field is great! Thanks to KUSA1.
#29, Atsushi Iwata (Seattle)
(He has been a baseball player since kindergarten days. He is a specialist as catcher.)
I came here with my sister and mother. I enjoyed really really a lot. Thank you for the excitement that I can not express in words.
#2, Yasuo Ishii (Seattle)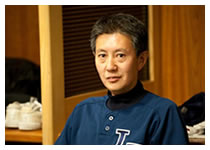 I played softball when I was in an elementary school. Also I had enjoyed playing baseball with my colleague in office. I coached young kids at baseball.
USA, Manager, #8, Toshi Nishizawa (USA)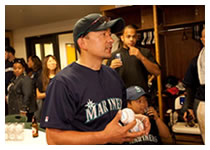 Unifying indivisuals with various charactaristics was a tough one. Next time it's our turn to visit Japan and play. Thanks to the team Japan.
(He gave balls with US member's autograph to all of Japan team.)
It is unforgettable for me to see people with different languages and races got together and built friendship. Baseball is for not only professionals. In New York as well, I saw many sandlot teams with many races get together with baseball. We should make this spread throughout the world. Let's make WKBC (World KUSA Baseball Classic)!
#3, Dan Larson (USA)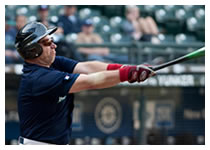 (He is Mr. Baseball!)
Almost every week, I'm playing baseball. But I started dancing with my wife for I wanted to spend more time with her. Then she could have me play baseball.
#6, Jacob "Jake" Staff (USA)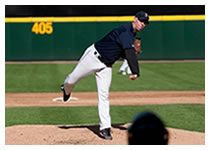 Next time I want to play in Koshien Stadium and watch the Hanshin Tigers' game there.
#10, Takayoshi "Tak" Kono (USA)
I've been really looking forward to playing at Safeco Field. I wish I could make hits. Actually I took a day off for the game, so it's a bit embarrasing.
#11, Ryuji Mitsuoka (USA)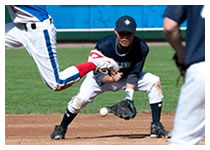 My parents came to the stadium to see the game. It was a great moment to play in front of them.
#12, Adam Johnson (USA)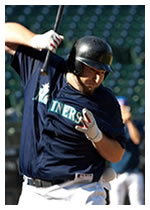 (He is 20 years old and a cannon of US team.)
I really wanted to hit a home run at Safeco Field. Let me have one more chance.
#16, Craig Fisher (USA)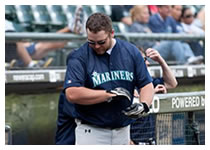 I wonder if it was just a dream that I played in the Major Legue stadium.
#37, Jason Lambacker (USA)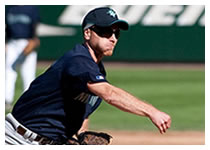 (He was chosen as an excellent player.)
I was so excited from the opening ceremony. It was really great. Actually I used live in Fukushima, so I love Japan and Japanese people.
#44, Ty Roberts (USA)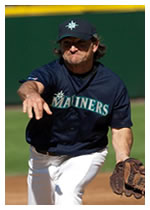 I came here with my girlfriend. I asked her to be a cameraman to record this special moment. She actually did a good job. I was too excited to be on the MLB mound.
#9, Taylor Anthony (USA)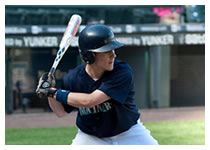 I could make the best memory for myself. I was lucky to join this event.
Ball boy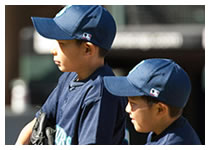 Ball boy, #80, Eito Nishizawa
Ball boy, #55, Hugo Nishizawa