KUSA1 World Series
At the Ichiro's home ground, Safeco Field in Seattle, KUSA1's monumental baseball event was held and many players from Japan as well as Japanese and Americans in Seattle got together. This is first time for all of them to play sandlot games in a Major League ball park. They pitched, hit, caught, ran and jumped over the entire field. It tightened the friendship between Japan and US.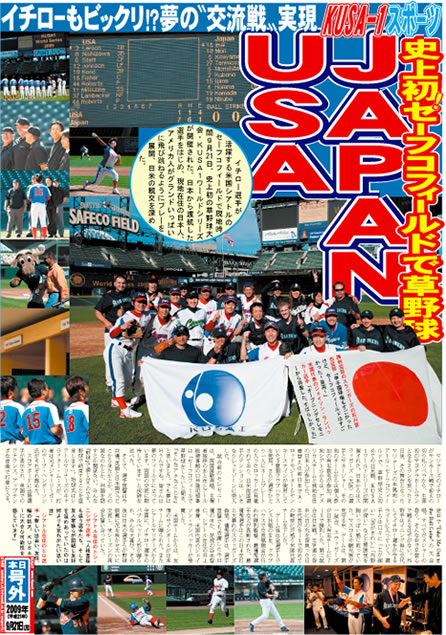 Purpose
To send an earnest message that the baseball be adopted again to the Olympic games
To maintain interchange between Japan and US through sandlot baseball games
Summary
| | |
| --- | --- |
| Schedule | Monday, September 21, 2009 |
| Place | Safeco field in Seattle |
Result
| | | |
| --- | --- | --- |
| Sluggers, Osaka | 7-1 | Japan Volunteer Team |
| Japan | 9-1 | USA |
Prize Winners
Victory Prize:Japan, Manager, Tetsuya Ishikawa (Sluggers)
For leading the team to a splendid win as the first manager of the Japan team representing all the Japanese sandlot baseball teams
MVP:Japan, #18, Yutaka Mori (Sluggers)
For an extreme success of making four hits a day being the true "slugger" of Japan
Excellent Player : Sluggers, #27, Tomohito Tanimoto
For becoming the winning pitcher of the game versus Japan Volunteer Team with an excellent quality
Excellent Player : Japan Volunteer Team, #2, Yoshitaka Inoue (Seattle NCJLT)
For scoring by stealing bases and excellent base running technique
Excellent Player : Japan, #16, Yu Imai (Sluggers)
For running round and round the diamond with fantastic hits
Excellent Player : USA, #37, Jason Lambacker (Downtown Seattle Mariners)
For making good results both in pitching and batting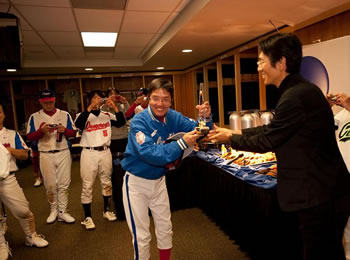 The KUSA1 Player Gave a Ceremonial First Pichi in the Official Major Baseball Game
Sluggers' Tamayama and Seattle's Hiro, both the members of KUSA1 World Series 2009, made big rolls giving a ceremonial first pitch in the official Major League Baseball game, Mariners vs Twins, held in the Safeco Field in Seattle on September 24, 2010.
Both wearing an uniform of the local Mariners, Mr.Tamayama as a pitcher and Mr.Hiro as a catcher, made a great performance in front of a large spectators of 30,000. Congratulations to both!
Comments from the participants before Departure
T.H. (Kanagawa prefecture)
I'm usually a quiet person but I am too excited to visit the Major League stadium. I definitely will enjoy this event so that it will be the treasure of my entire life.
Y.I. (Osaka prefecture)
Almost everyday thesedays, I am watching Major League games on TV and looking at a map of Seattle. I feel like being already in Safeco Field. I am just excited.
K.M. (Kyoto prefecture)
It is just unbelievable that my first international travel be the experience of playing in the Major League stadium. I even still don't know how to exchange bills. But I want to try my best in a performance.
T.I. (Osaka prefecture)
I am looking forward to a match against the US team. I think we should win 'cause Japanese rubber balls are used in games. I feel a pressure of representing the Japanese flag.
S.Y. (Seattle city)
I played softball when I was in an elementary school. Also I had enjoyed playing baseball with my colleague in office. Before coming to Seattle, I coached young kids at baseball. I am looking forward to my first playing game in Seattle.
K.K. (Seattle city)
I am really excited to play baseball in Safeco Field. I can't believe I can play baseball in the Field where Ichiro and Jojima play. This opportunity will have never been happened in my life again, so I will enjoy the game. Lastly, I really thank to Kusa1.